The effects of an acquired brain injury are not the same for each survivor. Impairments and deficits will vary from one person to the other. An individual's response will differ depending on the part of the brain that's affected. Cognitive deficits, issues with proprioception, balance or coordination, mobility, ambulation, weakness, tiredness, paralysis, pain, numbness and problems with bladder or bowel control can all change the way one functions in the home. These are all true of an ABI survivor. Medical interventions along with rehabilitation are essential components in order for ABI survivors to reach their goals and function safely in their home and in the community. The impact of an ABI on an individual may prove signifi cant. Some deficits may not be noticed until the survivor returns to daily tasks. Changes to the home are most effective when they meet one's specifi c need. The financial costs can be significant. There are many variables involved with recommending, planning and implementing modifi cations to make a home accessible. The two most common are the implementation of an Inclusive Design and adhering to Visitability guidelines. Inclusive design takes into consideration the needs of all individuals as it relates to the built environment. In most cases individuals with an ABI will return to their pre-injury living environment. Prior to the ABI, the survivor may have been living with family and/or friends. It is imperative that the living environment is functional for all persons and that there is no loss of use of living space. Visitability is also an important concept that is directly associated with inclusive design. They are, as we see it, one and the same. Visitability is designed to accommodate individuals both visiting and/or living in a home. The design of the home is intended for individuals who may have diffi culty climbing stairs or who have mobile disabilities and may use assistive devices such as wheelchairs, power chairs or walkers. As we know, the impairments and defi cits that an ABI survivor may be subject to, is determined by the signifi cance of the trauma experienced and how well they have been able to rehabilitate as a result. When deciding on the best housing option for a person with a brain injury, there are many issues to consider. At Accessible Daily Living the following steps are taken to assess the needs of a client who has sustained an ABI:
1. What kind of living environment is desired by, and acceptable to, the person with the ABI?
2. What kind of living environment is required to meet the physical, safety, cognitive and social needs of the individual with the ABI?
3. Is there financial assistance available (insurance, income, funding)?
4. How will family members (if any) be involved in the care and rehabilitation process?
5. What demands on time and energy are realistic and feasible?
6. What potential does the person with an ABI have for improvement and rehabilitation?
7. What type of living environment will promote a level of independence and progression in rehabilitation?
8. Is there a potential to create a living environment in which an individual with an ABI is able to live as independently as possible while family members and friends maintain productive lives?
9. Will the recommended modifications endorse a living environment that is sensitive to regular activities of daily living, cultural needs and values?
10. Is there a need for accessible transportation? If so, how will it affect the home environment and required modifications?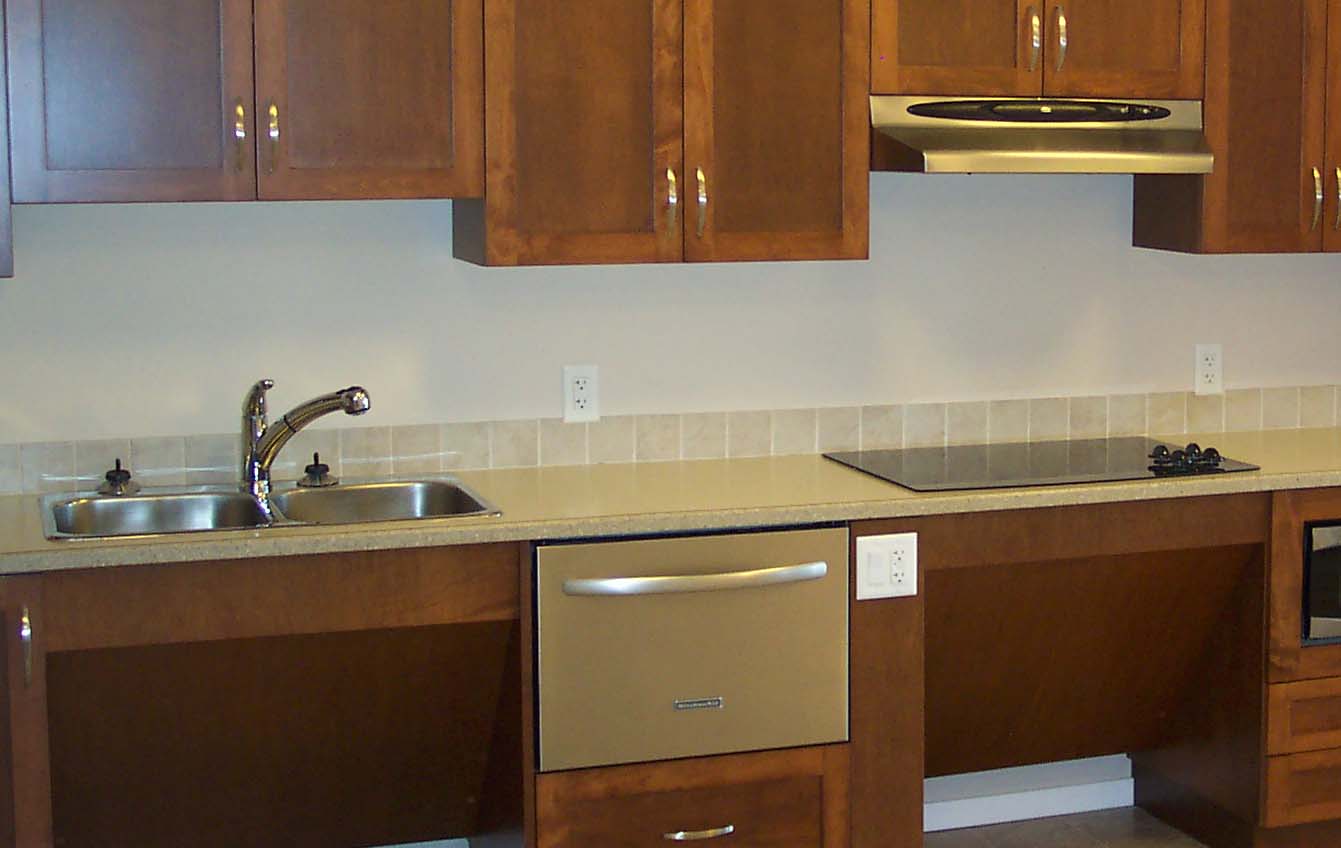 Ask and Use Experts An Occupational Therapist along with a Home Modification Specialist will help to determine the most suitable and cost effective solutions that will address any safety issues that may exist and provide solutions for accessible and inclusive living. If addressed immediately, it is a good idea for ABI survivors to have a trial visit at home before they are discharged from the hospital. If changes and corrections to modifications are required, they can be made before the individual returns home permanently. In any case or situation, home safety and accessibility should be an active component of a discharge plan home.
Options Many ABI survivors experience difficulty with judgment, behavior, memory, attention span or confusion that may lead to unsafe living situations. There is a need to create an environment that encourages safe practices regarding ambulation and navigation of the home, a secondary exit in the event of an emergency, the use of electrical equipment, performing activities of daily living such as bathing, cooking, cleaning, and tasks such as answering the door, telephone and any other activity that could pose as a safety risk. In light of the above information, an alternative living environment may be required in the event that the pre-injury living environment cannot meet the current and future needs of the ABI survivor. There is a possibility that the recommended modifications cannot be implemented to the pre-existing living environment due to size and age of dwelling, safety concerns and absorbent costs associated with proposed modifications. Cost effective alternatives may be available that are more suitable and allow the ABI survivor the ability to return to a living environment expeditiously. It is important to note that not all modifications have to be extensive and expensive. For example, a simple but properly built ramp or grab bar can provide significant independence to an ABI survivor. Before spending a lot of money on modifications, remember function can continue to return and what someone may require in the acute stages of treatment and rehabilitation may not be what they end up needing a year or two post-injury. The basics, like an accessible bathroom usually top the list of immediate needs after discharge home.  The following is a list of recommended modifi cations that will address the majority of the needs of an ABI survivor. Accessible Daily Living recommends that an experienced health care practitioner such as an Occupational Therapist assess functional capacity of an ABI survivor to determine modifications specific to the individuals need.
Vision
Window treatments (pull down drapes, tinted shades).
Avoid glossy floor finishing (reflective, glare).
Careful selection of light fixtures (flickering, noise-humming).
Exterior lighting located in key area with minimal glare and reflection onto windows.
Choice of paint colours within home.
Motion or timed lighting. Hearing
Tight window weather seals should be maintained to reduce exterior noise.
Sound absorbing materials should be used on walls and floors. These materials include acoustical ceilings, carpeting, wall covering, draperies, and wall hangings.
Audible warning signals, such as smoke alarms, should be equipped with flashing lights.
Touch
Wall surfaces and flooring may effectively be covered with tactile materials to increase their "readability". Changes in these materials may be used to signify an important feature or location within the living environment. For example, a change in floor covering, from wood to carpet, can indicate moving from a room to a hallway. This concept can also be effectively designed into outside porches and patios.
Temperature controlled faucets and shower heads and motion sensitive faucets.
Water heater thermostats can be preset up to 140 degrees, a temperature that can easily burn sensitive skin. Reduce the risk of burns by setting the water heater to 120 degrees.
Cognitive
Visibility: paint and furniture colour.
Smart home compatibility (automated).
Safety gates.
Temperature controlled faucets and shower heads and motion sensitive faucets.
Open concept.
Widen doorways (min 32"-36").
Automatic door openers (exterior/ interior).
Multi-level access (Elevator, stair glide, tele-cab).
Secure 24-hour security/alarm/ emergency system.
Exterior pathway, walkway. • Exterior motion/timed lighting (automated).
Common Area
Hallways and passageways: ideally 3'7", min. 3'0".
Open concept.
Clearance of pinch point: 2'0"
Built-in furniture
Low window sills
Large doorways, openings (min. 32"-36")
Flooring
Home automation (audible, visual) Multi-level access
Elevator
Stair glide
Tele-cab
Vertical platform lift
Kitchen
Modified kitchen: clear floor space, accessible cabinetry, clearance under sink, insulated plumbing, clearance under work counters, lower and adjustable shelving.
Built-in features
Touch release drawers
Outlets/switches
ADA compliant appliances
Counter tops: bull nosed or rounded edges, contrast from appliances.
Single lever or motion faucets
Indirect lighting
Turning radius (5'0")
Bathroom
Clear floor space
Efficient design
Storage
Mobility device use
Fixtures
Grab bars, P.T. rails
Space constraints
Water proofing (European wet rooms)
Options: roll-in shower, pedestal or wall mounted sink
Slip resistant flooring
Lighting (motion)
Entrance (min 32"-36")
Faucets (temperature controlled and motion)
For added peace of mind, install a shower system that provides a digital temperature read out. Some shower heads and hand showers, indicate the temperature of the water via an LED color indicator, as well as a digital numerical readout, and can be installed within minutes.
When recommending and implementing the above accessibility solutions in a living environment, consideration should be given to the type of assistive device and /or mobility aid that is being used by the ABI survivor. Examples of such devices or aid are wheelchairs (manual, power), scooters, walkers (standard, wheeled or rollator), canes (single point, quad-cane), white cane (sight) and crutches.
At Accessible Daily Living, we believe that in order to provide a safe and accessible living environment utilizing the principles of Inclusive Design and Visitability, the following should be achieved:
Equality.
Flexibility for further modification in the event the health status of the individual changes.
The recommendations for modifications are simple and intuitive, easily understood and perceived.
Tolerance for error (health status of the ABI survivor changes during initial implementation stage).
Modifications require minimal effort for use.
Ideal size and space to provide a safe, accessible and inclusive living environment.
Realizing the needs of ABI survivors from an accessibility perspective may be a lifelong pursuit. The most vital information we rely on is the type of activities they are involved in and perform on a daily basis. These activities must be meaningful, promote rehabilitation and encourage a level of independence. It is important that ABI survivors are able to "live", and that through education, advocacy, development and implementation, a safe, secure and accessible environment will allow them to return to their families, friends, their community and a place they can call home.
For more information:
Follow us:
www.twitter.com/livingADL
www.linkedin.com/in/johngroe
"Ontario Brain Injury Association Review", September 14, 2015, Volume 21, Issue 3, Article Pages 12-16Â (Full Issue)